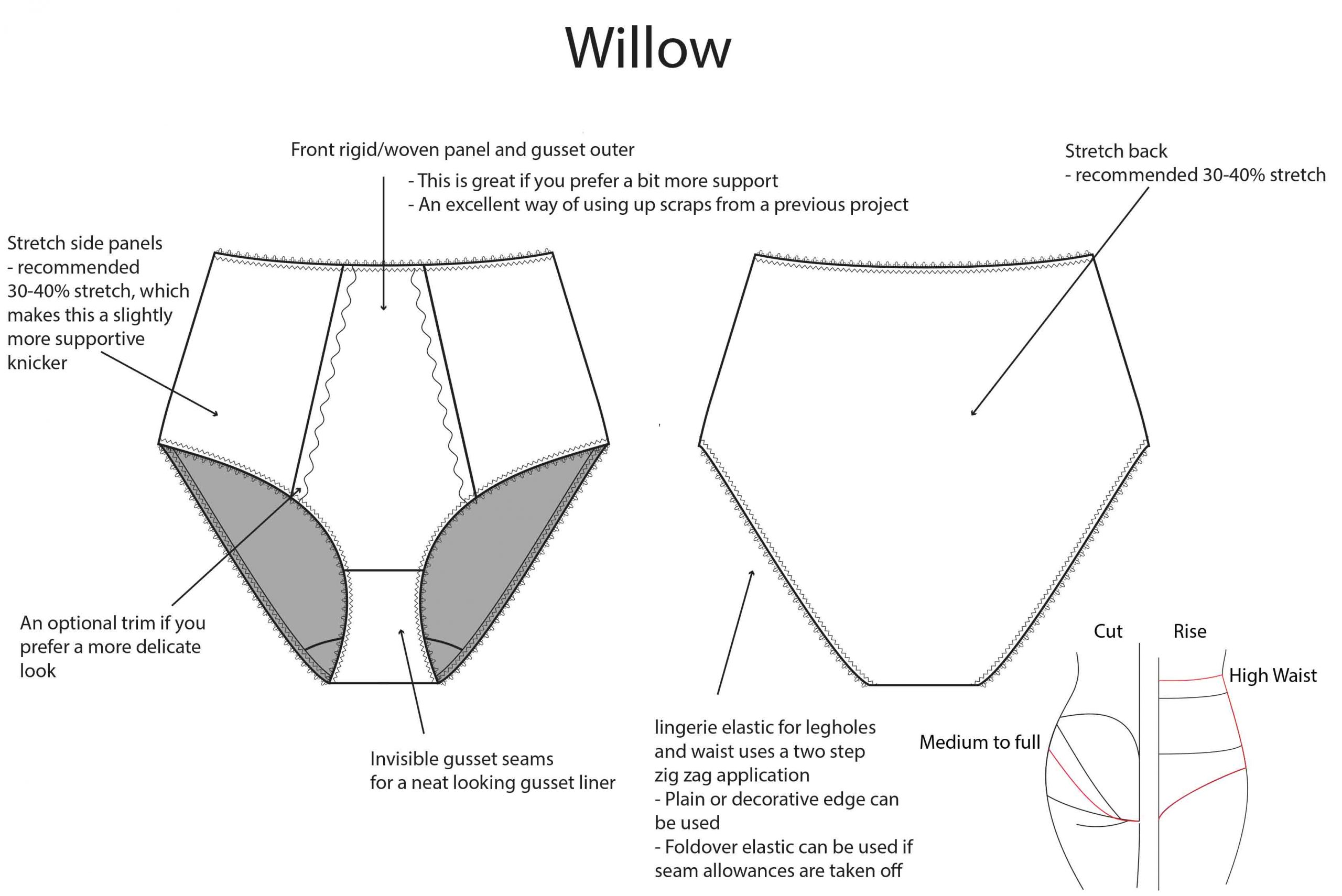 Comparison Pattern Guide – Compare Knicker Patterns
If you're feeling a bit lost as to what knicker pattern would set you best then this comprehensive comparison guide is for you! I'll be going through all the different styles and details of the knickers from the fabrics used, to the cuts and rises of the knickers and everything else in between!
Willow High waist knicker Sewing Pattern – printed or digital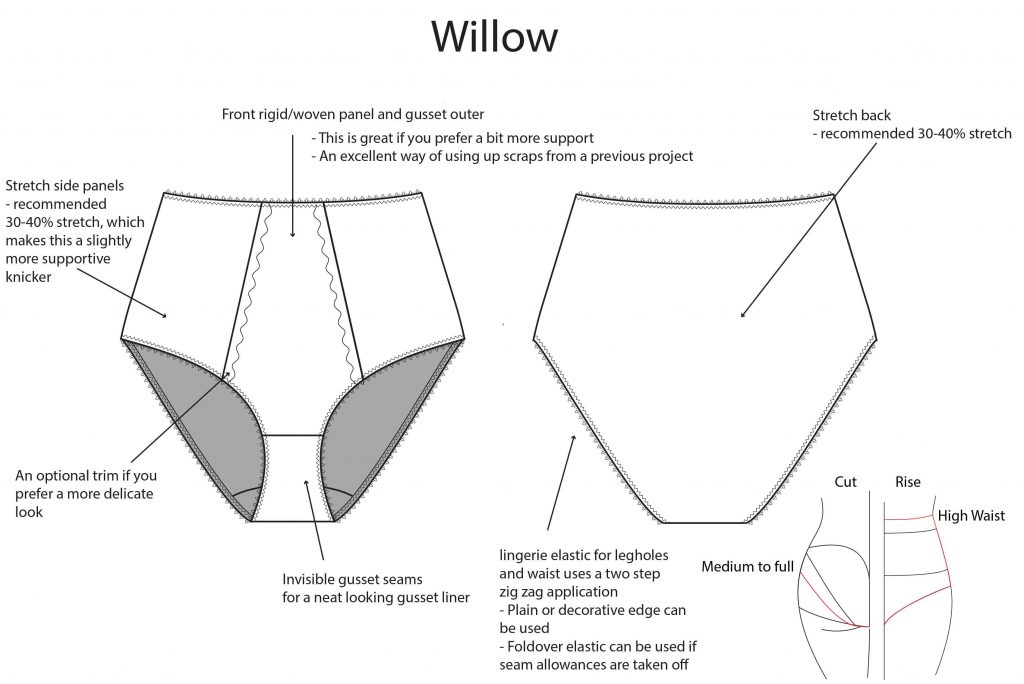 The willow knicker pattern is a classic high waist knicker that uses a non stretch fabric for the centre front panel. It's a good 'converting' pattern if you're not used to using stretch fabrics in your sewing, as it has non stretch seams and stretch seams. It has been and still is our most popular pattern!
Find printed Willow here
Find digital Willow here
Ivy Lace knicker sewing pattern – printed or digital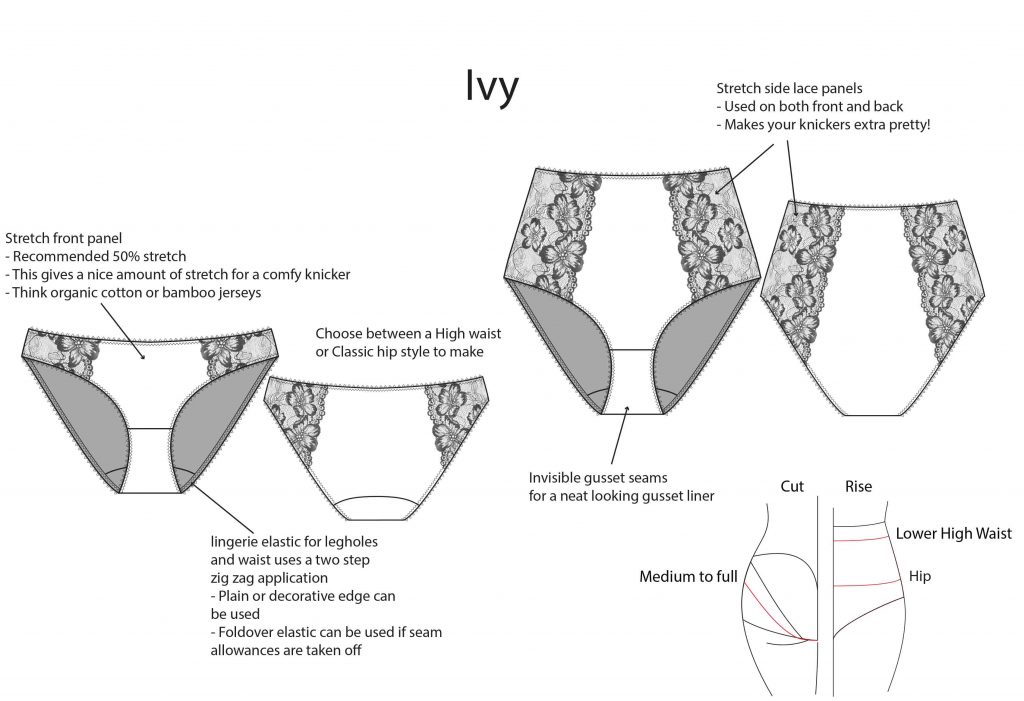 Ivy is the pattern for you if you like a more feminine knicker. The extra lace panels just add that! Ivy is a slightly more complicated pattern to use due to all stretch fabrics and working with stretch scalloped edge lace. However the seam lines are simple so it's perfect if you want to explore further with your lingerie sewing.
Find printed Ivy here
Find digital Ivy here
Honey Stretch knicker sewing pattern – printed or digital
Honey is a great pattern to start getting into sewing lingerie. You'll get to practise using stretch fabrics, and as the pattern is simple so you can concentrate on getting your stitching and tension good. Honey may look plain but is very versatile. Change the waist elastic to a waist band and you've got a completely different look. It's actually the pattern I use for myself the most!
Find printed Honey here
Find digital Honey here
Penny beginner knicker sewing pattern – printed or digital
Why are the Penny knickers a ruffle style?
Because there is no stretch in the fabric, the knickers need to have extra give so the wearer can move comfortably in them. The pattern will look a lot larger than the stretch patterns because of this. Elastic is a vital part in making the knickers fit. It gathers up the extra ease so the waist and leg holes cling to the body, stopping them falling down or becoming loose! Because there is more give in this pattern the elastic needs a lot more tension on it than it would on a stretch knicker, like the Honey knickers. Because it can be hard to get this right, there is a elastic cut length guide within the pattern so you know what length to cut the elastic to for your size. It also shows you how to apply the elastic, a method call pin and quarter.
The Penny knicker sewing pattern was designed specifically for beginner sewers, so you can really get to grips with making your first pair of undies. Then, when you've made several pairs and feel a bit more confident you can even try adding a bit of lace for that extra special look!
Find printed Penny here
Find digital Penny here
Penny knicker making kit here
Blossom adjustable knicker sewing pattern – printed or digital
Blossom is your more skimpier pattern out of all the different styles. The adjustable strapping makes Blossom very easy to wear, as you can adjust the size to fit. Due to the strapping the leg holes are higher, showing more skin.
The printed version of Blossom won't be around much longer so you can get the remainder on sale here
Digital Blossom here
[maxbutton id="1″]
What's your perfect pattern?
Now you know the full details of the Sew Projects knicker patterns currently available, let me know which is your perfect pattern. Drop a comment below and let me know why it's your fav!