5 essential fabrics used in Lingerie Sewing
In this blog post we will be going through the top 5 essential fabrics used in lingerie so whether you are a beginner sewer or advanced sewer, you know exactly what to look for in the fabric shop.
Are you dreaming of the day when you won't have to feel disappointed of the lingerie selection in the shops?
If this is you, then this is the perfect opportunity for you to take matters in your hands and make your own!!
Here's the important thing, when you're sewing lingerie garments you need to use specific fabrics to make the fit and functionality work as intended. Lingerie garments often are designed to support and shape the body unlike outerwear garments. So lets dive in…
1. Powernet/Powermesh
One of the most popular fabrics for creating lingerie garments is powernet or powermesh. This fabric finds its functional niche in lingerie garments like no other, thanks to its exceptional and unique properties perfectly suited for lingerie production.
That's because of the amazing technical abilities it has –
Great Stretch and retention: Powernet is known for its exceptional stretch and elasticity. It can stretch in multiple directions, providing a snug and comfortable fit. This property is essential in lingerie as it allows the garments to conform to the body's curves, providing support and shaping.
Sheer and Lightweight: Powernet fabric is often sheer and lightweight, making it an excellent choice for lingerie. It provides a delicate and sensuous appearance while remaining breathable, ensuring comfort.
Breathability: Powernet is breathable, which helps prevent discomfort caused by moisture buildup. It wicks moisture away from the body, keeping the wearer feeling fresh and comfortable.
Because of these properties it is most commonly used on back bands of bras, knickers (usually the back) and shapewear as firm powernet can support and shape the body very well.
2. Rigid Lace/Embroidery
Rigid Scallop edge lace is a popular choice to use in lingerie garments due to its delicate, intricate and feminine nature which is perfect for lingerie garments.
It is used in bra cups and cradle, bralette cups and cradle, knickers (usually panels or cut outs) and suspenders.
Although this is a rigid lace meaning it has no elastane and therefore stretch in, it can have a mechanical give, more or less so depending on the type of pattern that is created from the lace. If is a tight weave it will have less give and if it an an open weave it will have more give. Give should not be utilized like stretch as this could distort the fabric and it will not function as intended. For bras it is often necessary to line this with a tulle or sheer cup line fabric.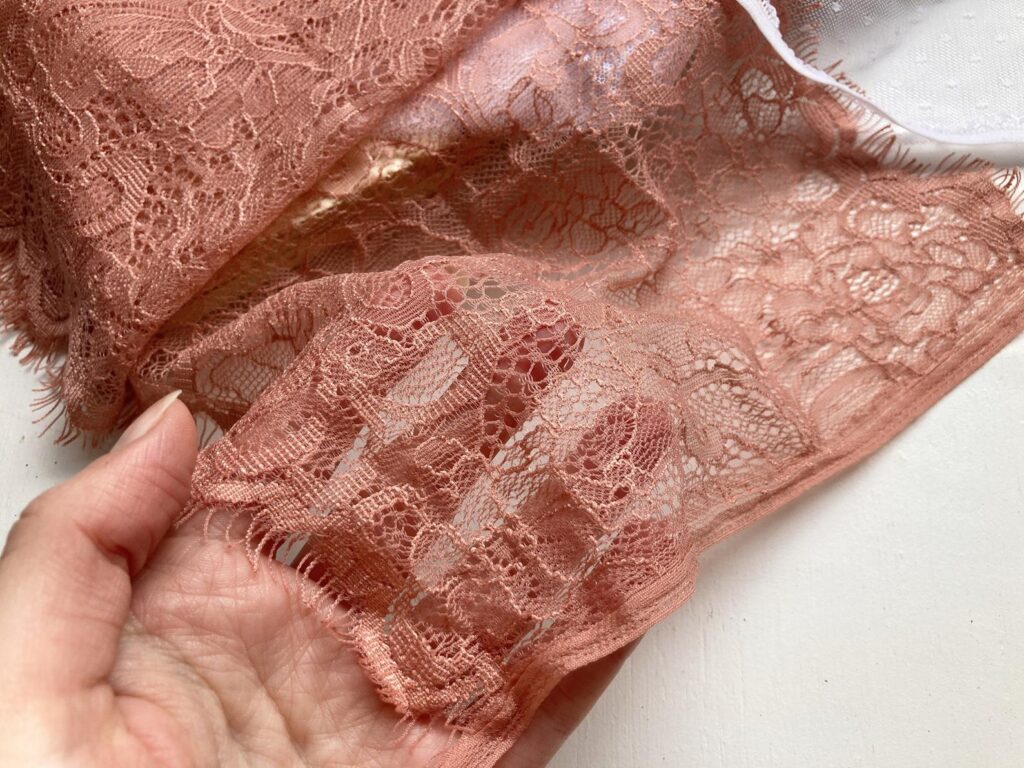 3. cotton jersey (with elastane which is important!)
Cotton jersey is a very popular fabric as it is so versatile what with it being breathable, comfy and stretchy. It's very common in outerwear fabrics but also very common in comfy lingerie garments.
When you buy a cotton jersey make sure it has a bit of elastane in too, its usually 95% cotton and 5% elastane. This will help with the stretch retention. Meaning it will rebound to it's original state better after being stretched out. Otherwise you may have saggy pants! which no one wants!
Cotton jersey can be used for knickers, boxer briefs, bralette, bodysuits and even some bras! Jut be careful when using stretch fabrics in high tension areas like back bands of bras and the centre front of bras, it's not as strong as powernet/powermesh so might stretch out more easily!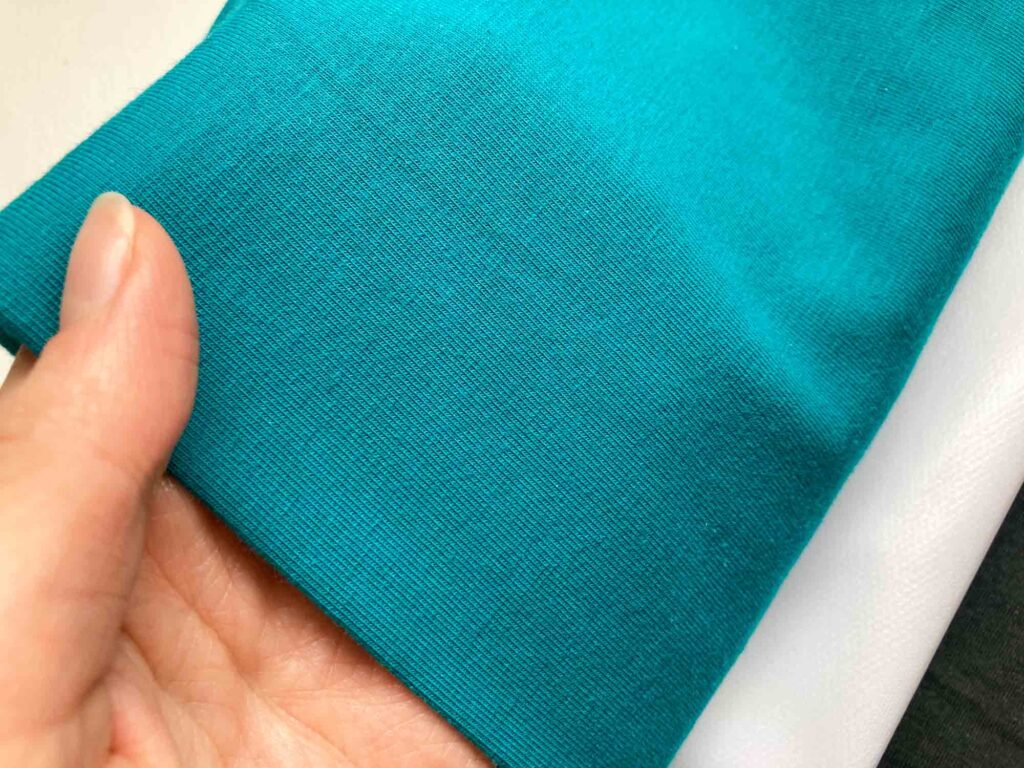 4. cotton jersey with no elastane – gusset liners!
A cotton jersey with no elastane is perfect for sensitive areas. Without the elastane there is less likely to be irritation. Being used as a gusset liner, the fabric is not being stretched out of it's natural state so it is fine to use for those areas. You can also use a cotton jersey for knickers but they might start to sag a bit or other lounge items like cami tops where the fabric isn't under tension.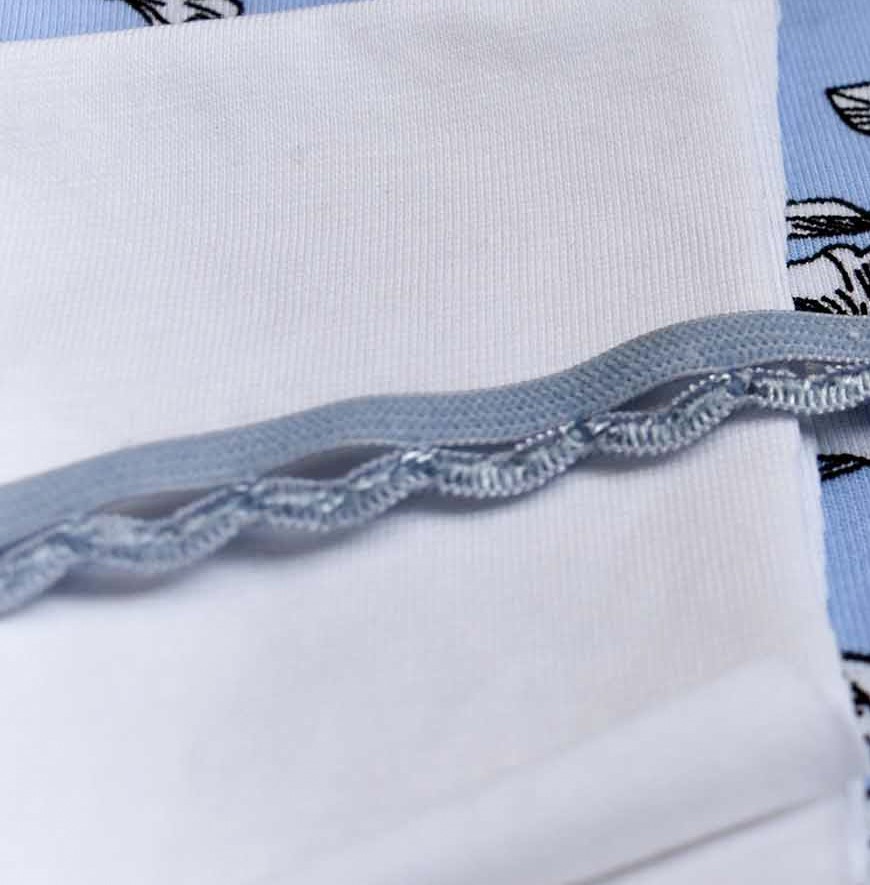 5. Stretch lace
Last but not least we have stretch lace!! This is a very common fabric almost used exclusively for lingerie garments. What with it's delicate and pretty details yet being able to stretch and feel comfortable it is perfect for beautiful lingerie garments.
The stretch lace in the photo shown is called a scallop edge lace wide trim. They are usually 16-30cm wide and on either side they have a scallop edge made on a Galloon lace machine. The scallop edge can be utilized to be shown on edges of lingerie garments like the neckline edge of a bra, the back leghole of knickers and the front or back band of a bra.
If you'd love to have your lingerie drawer filled with the most beautiful lacey garments but you feel completely daunted then I have the perfect thing for you!
In the Ultimate Lingerie Sewing Course I teach you how to create your dream lingerie drawer and I teach your how to understand and use lace in different lingerie garments.
If this post has inspired to sew your own lingerie then I have something very exciting for you!
I'm giving away a free knicker pattern with a complete tutorial for you to start your journey to your dream lingerie drawer…
Click here to get your free pattern!