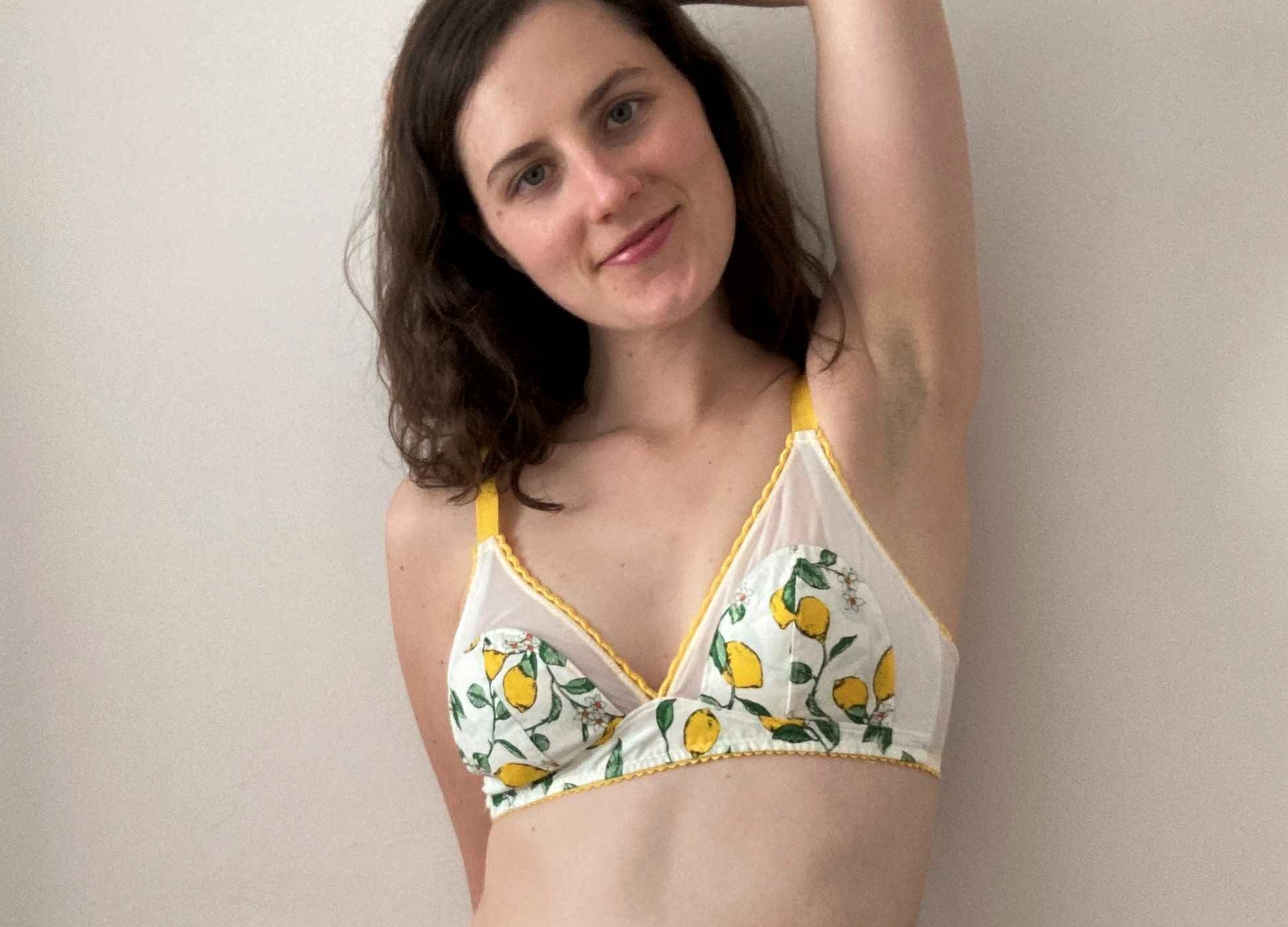 The Willow Soft Cup Bra Pattern
The new Willow Soft Cup Bra pattern in UK bra cup sizes A-G has just been released and if you desire comfort and support then this one's for you! Keep reading…
The Willow Soft Cup Bra pattern bridges the gap between your comfy lounge bralette and a structured, supportive wired bra. It is unique in that it mixes rigid/woven fabrics in the cup with stretch fabrics which creates this hybrid style.
You can really play around with the design of this bra, mixing your favourite comfy stretch fabrics with your favourite rigid fabrics, and just like the Willow Knicker pattern, it is great for using up scrap pieces of fabric you may have already in your fabric box!
It is available in UK Bra cup sizes A-DD and the full bust range sizes DD-G.
Inspiration
The Willow knicker pattern was one of my very first patterns on my shop when Sew Projects started back in 2019. It has always been a best seller so I knew that I had to create a matching bra/bralette for it to create the set! The Willow knickers were inspired by vintage shapes, with the high waist style and central front panel, so of course the matching bra had to not only match the knickers but also had to have the same vintage vibe.
The high strap apex and arc neckline shape is a very common vintage style and I loved this look! By incorporating this shape, it was really easy for me to mix the cup up between the stretch and rigid fabrics. So it didn't take many drawings before I knew what I wanted to create!
If you want the whole set then opt for the bundle pattern here and get 10% off!
The Pattern Development Process
I have a crazy amount of archived and block lingerie patterns throughout my years of creating patterns but I didn't have any patterns that really resembled what I wanted, so Instead of starting from scratch and drafting a 2D pattern or re working another pattern I decided to create my pattern on the mannequin.
I actually really love creating completely new patterns on the mannequin as you can really see what the design will look like in 3D very quickly. The downside, the mannequin is hard and the body is soft! Especially the breasts! After I created the initial pattern on the mannequin and creating the desired design I wanted I had to re work the pattern quite a lot to make it fit really well! The mix of stretch and rigid fabrics on the cup was also a challenge, because both fabrics are wanting to do completely different things to each other.
One of the main things I had to adjust considerably was the central cup seam and strap apex position. On a mannequin the breasts are hard so they stay where they are. On a body, they move and generally have less projection, which is why, if you want you breasts pointing forwards and being lifted, the bra structure needs to support them and hold them in the desired shape. So the cup seam and strap apex needed to be moved inwards, to prevent the east west look. (Breasts that point away from each other.)
Other than that it was just finessing the cup shape of the bra so it looked rounded and supported.
Sizes – core size pattern
The core pattern comes in 26 UK bra sizes.
The pattern asks you to measure 3 measurements when choosing your size. Check the size guide below to work out your size.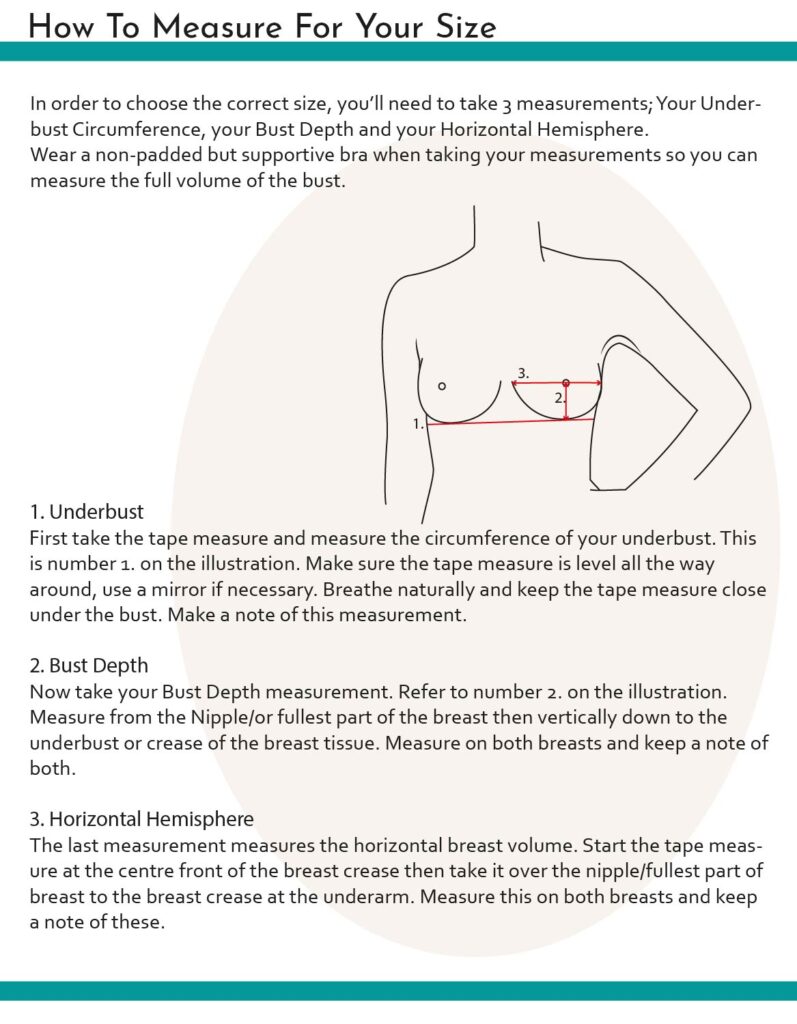 There will also be a full bust size pattern which will range from a DD cup to a G cup, which will be released in about a months time!
Sizes – Full bust size pattern
The Full bust pattern comes in 28 UK Bra sizes.
The pattern asks you to measure 3 measurements when choosing your size. Check the size guide below to work out your size.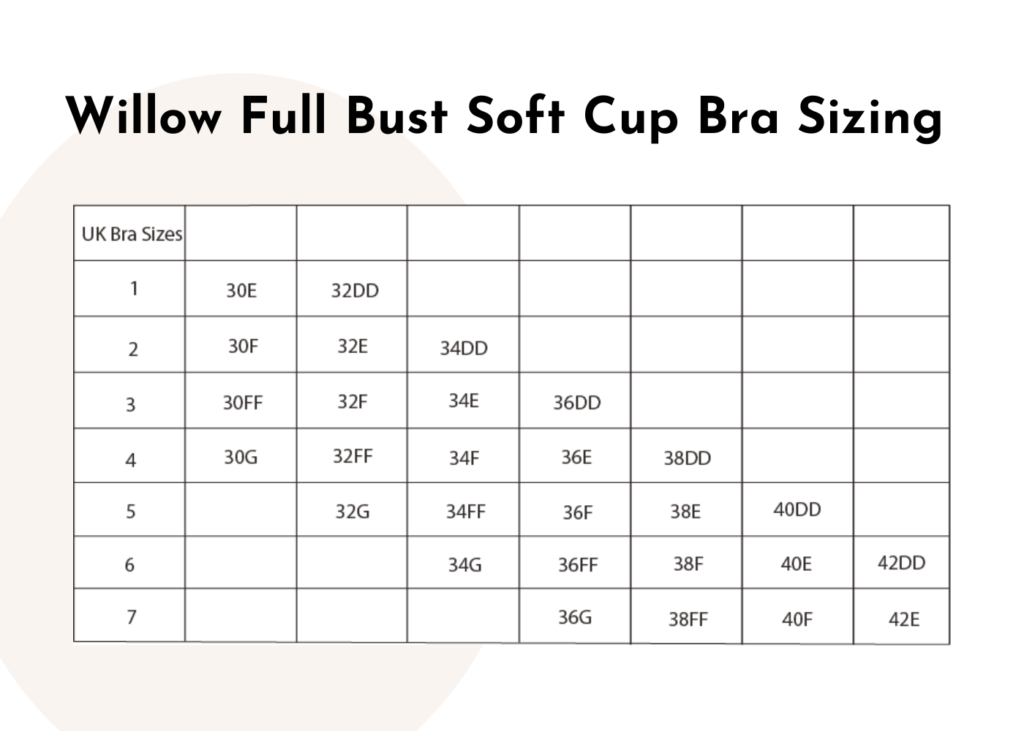 Again, the pattern asks you to measure 3 measurements when choosing your size. Check the size guide below to work out your size.
Sewing
The pattern is classed as an intermediate level make. Ideally you will have had practice applying lingerie elastic before, and have worked with stretch fabrics. I don't advise this for complete beginner sewers, (the Penny knicker is for beginners) however if you have sewn a few lingerie/garments before and you feel up for the challenge then this I would recommend this for you too!
The pattern comes with a complete comprehensive instructions manual with colour photos, so you don't have to worry about how to make it. There are also optional ways to sew it, such as with a lining, with a side sling, with boning which will not only define how supportive you want the bra to be but also how much sewing time you want to put in it. So there are lots of options for you to choose.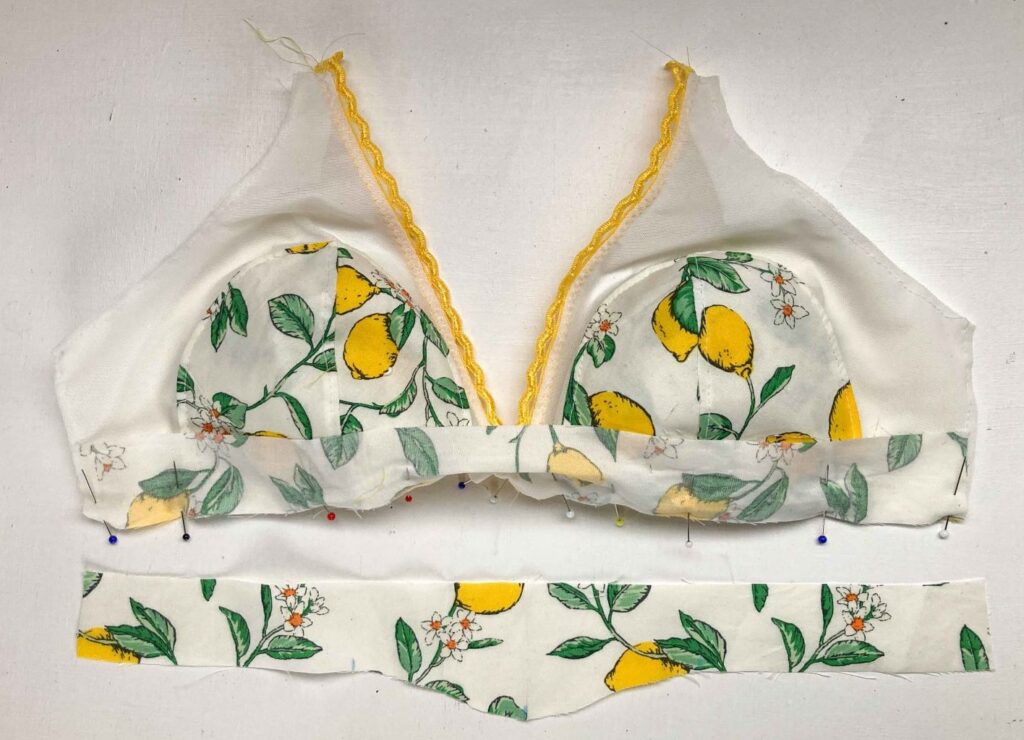 What you will need
Like with many lingerie patterns you don't need too much fabric and that that's the great thing about it! However If you have at least 0.5m of rigid/woven fabric for the cups and cradle and 0.35m of stretch fabric for the arc neckline and back band then you will have enough to make any size.
You will also need the required elastics and components to make the bra, which include – 2.5 m of lingerie elastic; 1 m of underband elastic; 1.15 m of shoulder strap elastic (16 mm wide recommended); 2 sliders/adjusters; 2 O-rings; 30 mm wide bra fastener; 25 cm of seam tape or wire casing and boning (optional).
All information on what fabrics and the types of elastic you need is stated in detail in the pattern.
Exclusive Sewing Kit
We have an exclusive sewing kit that has been curated specifically for the Willow Soft Cup Bra and Knickers set. All components and elastics have been dyed in house to create the perfectly match the lemon print.
We only have a very limited number in stock so grab it whilst they are available!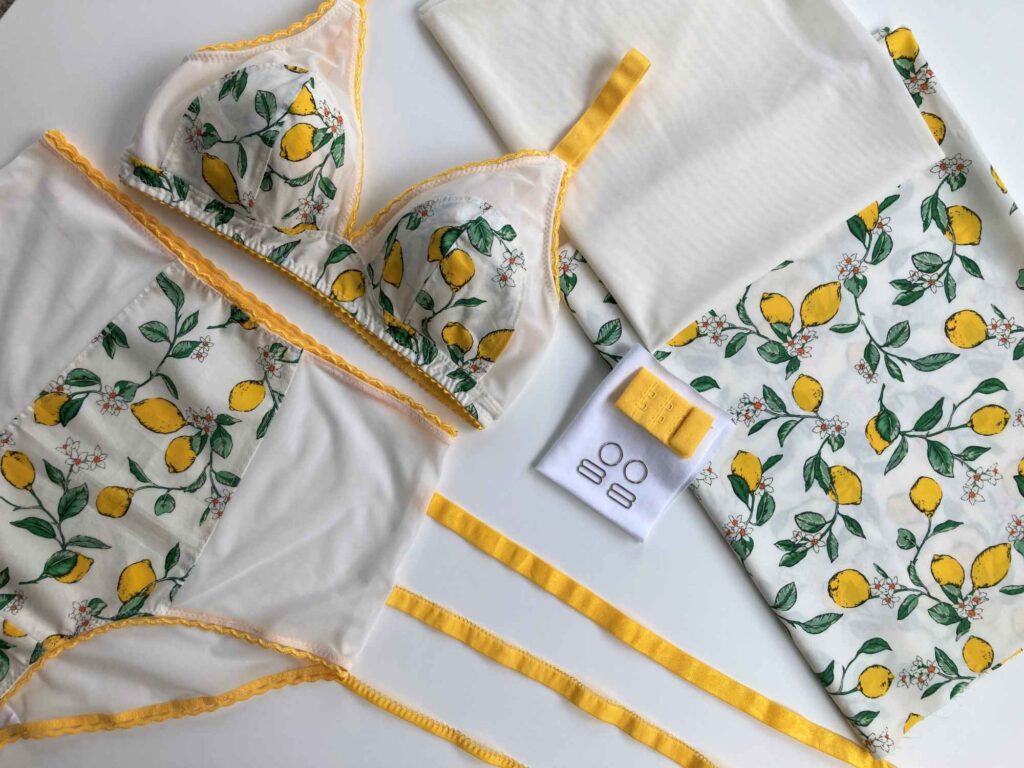 Business License
As with all our patterns, the Willow Soft Cup Bra pattern can be purchased with a sole trader license. If you are a sole trader, such as you sew lingerie and sell it and hold in person workshops, then you can use the pattern for commercial uses.
If you are a larger business then please contact us for a bespoke license for your needs.
Check out the sole trader license below.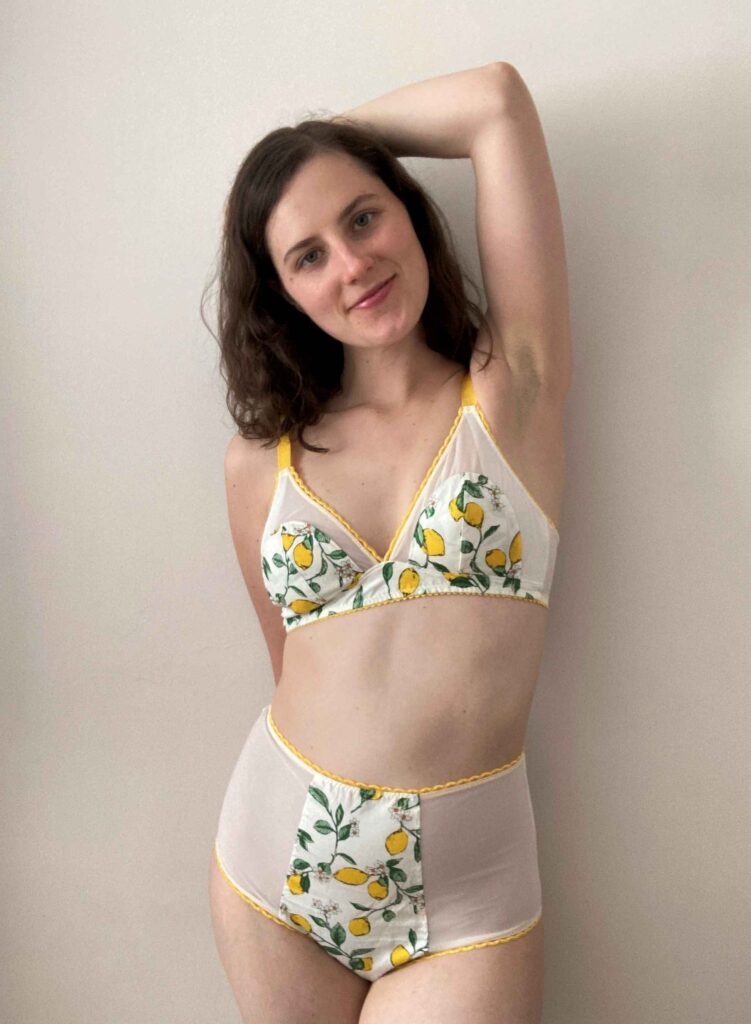 Model wears cup size 3 and 2 band (UK Bra Size 32C.)
Model wears cup size 4 and band 34 of the full bust pattern.