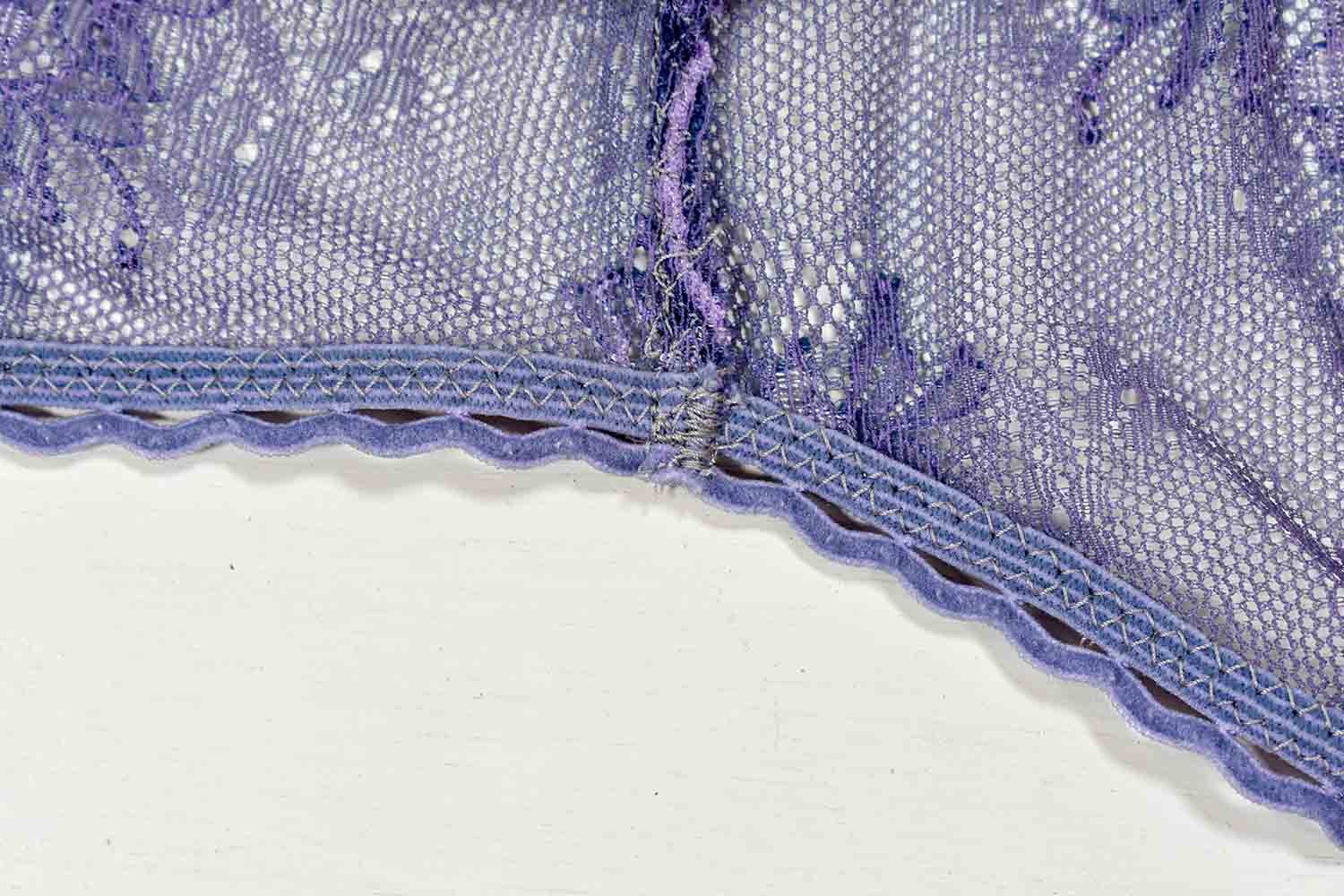 A guide to stitches in Lingerie Sewing (on a domestic sewing machine)
This post will go through the stitches you need to make lingerie!
The great thing about sewing lingerie is that you only need to have a machine that can do do straight and zig zag stitch! So if you think you need to buy a fancy, expensive machine to sew lingerie, you don't! Unless of course you want to! 🙂 These stitches are usually all available on a regular, home domestic machine and overlock stitch can also be used in replacement of some of the stitches I go through if you have an Overlocker, but this is optional.
Straight Stitch

Straight stitch isn't as common to use in lingerie sewing as with outer wear garments, this is because a lot of lingerie garments use stretch fabrics. However, you'll use the straight stitch when making the front cradle of a bra, especially if it's a wired bra as this usually has a rigid front and cups. You may also use this on knickers with rigid/woven fabric panels, such as the Willow Knickers.
An Overlock stitch can also be used to replace the straight stitch, although it does create a bulkier seam, so you may not want to use it on places like bra cup seams.
Basting Stitch

Basting stitch is used quite regularly in lingerie sewing. Often you will have two layers, an outer and a liner in a bra or bralette, and using a liner can help with support and softness against the skin. This is used as a temporary stitch to tack the two pieces of fabric together so they don't move when you are sewing them. I advise this stitch in the front outer and front liner piece of the Barbary Bralette.
Zig Zag Stitch
The zig zag stitch is the most used stitch in sewing lingerie. Why? because it stretches with the fabric unlike the straight stitch. If you've ever sewn a seam in a straight stitch with stretchy fabrics, you may find the stitches break when you put it on! This is also why its very hard to make stretchy lingerie garments by hand stitching, I've never tried to hand stitch a zig zag stitch but I can't imagine it's fun. So the zig zag stitch is used on stretchy knicker/bra/bralette seams and most commonly with the application of elastic, which is essential in good fitting lingerie garment.
An Overlock stitch can be used for seams instead of a zig zag stitch.
Three Step Zig Zag Stitch
The three step zig zag is not used quite as often as the zig zag stitch but it can be a very good alternative. Some people think it looks neater on elastic applications so they will use this stitch instead of the zig zag. The places where this stitch has helped me is attaching fine fabrics/tricky elastics. So for instance, clear elastic is sometimes used on the cup neckline when using a delicate lace. I've found the zig zag stitch tends to gather at the width, but the three step zig zag doesn't. I advise this stitch when attaching the scallop edge lace of the Ivy Knickers to the Front and Back panels as I find it lies smooth, is more neater and secure.
Bartack Stitch
The Bartack stitch is in-between a satin stitch and a zig zag stitch length wise, it is also quite small on the width. This is because you are not really using a Bartack for decorative purposes, it's more functional. The Bartack is used to keep the seams flat in knickers. All my knicker patterns use the Bartack stitch at the side seams, and it is the last finishing stitch you'll sew. This stitch is also used for attaching bra straps, as it's a very strong stitch and can hold the weight. You may also find this stitch on elastic edges such as bra straps, although it may be a bit wider to make the stitch hold better.