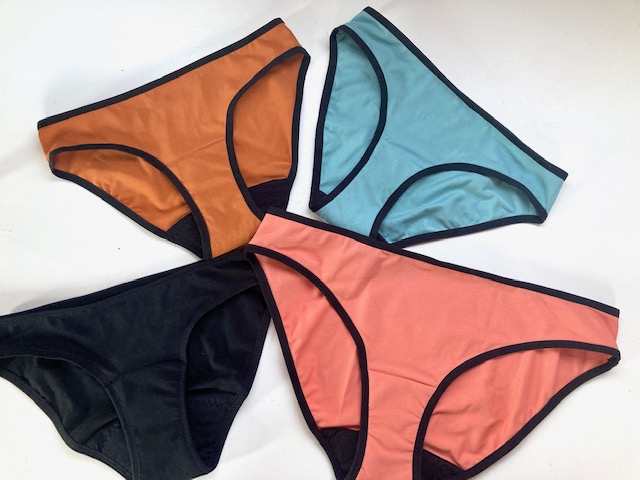 Period Pants FAQs
Find out about all you need to know on how to use, wash and wear period pants and more!
I've just released the Moontide period pants in a DIY version with the sewing pattern and kits and ready to wear knickers handmade by myself! If you've never heard of period pants before you may be a bit confused as to how they work. Fear not, I'm here to answer all your questions!
What are period pants?
Period pants are knickers, panties, briefs whatever you like to call them, that are made to absorb your period blood whilst on your menstrual cycle. They work just like sanitary pads where the blood gets absorbed and trapped so they can't leak. Specific technical fabrics are used for the gusset layers for this to work.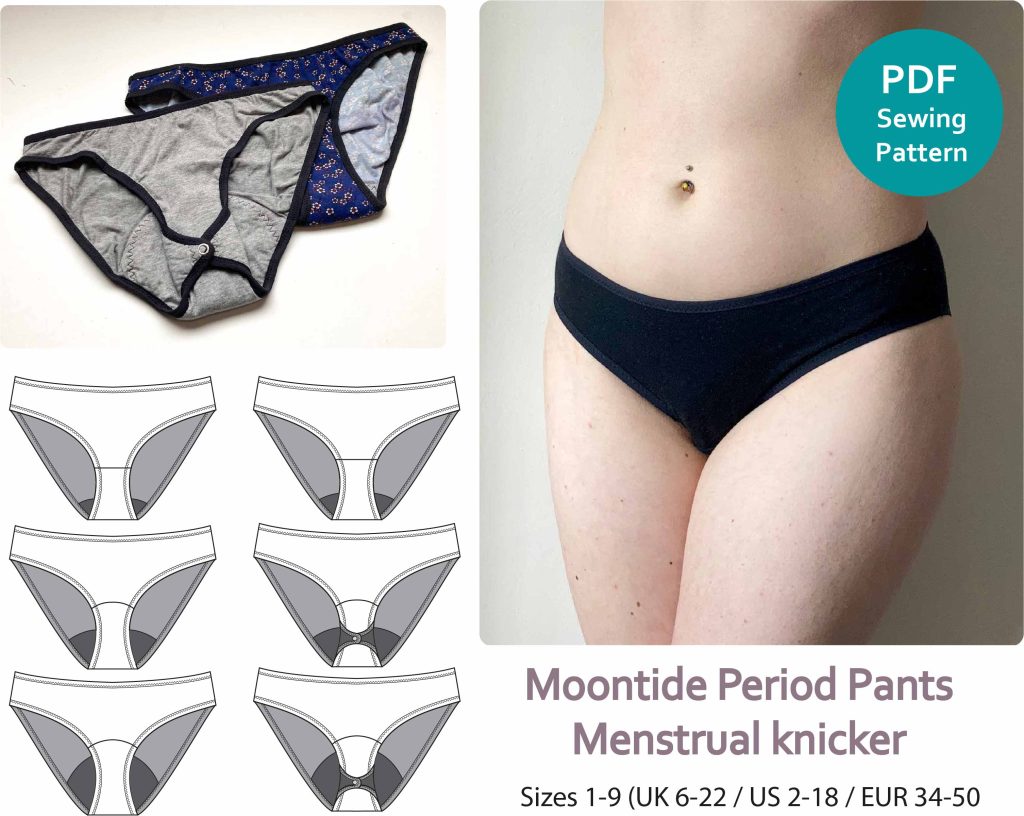 Why would you use period pants instead of other menstrual products?
Comfort –
Period pants can be a lot more comfier than other menstrual products. This is because they are quite thin, so there is less bulk which means you hardly notice the difference between regular undies and period undies. Some reusable pads can feel uncomfortable because the knickers you are wearing are too loose/the pad isn't secured to the gusset properly. If you wear a good fitting pair they sit close to the body which feels a lot more comfier.
Sustainability
One of the great reasons to switch to period pants and reusables in general is because of the sustainability factor. Think about all those periods you've had and all those times you've thrown disposable pads or tampons away. Period pants will last years if they are cared for and will save a lot of menstrual products from going into landfill or in our oceans!
How to care for them
Wearing
Period panties are designed to be worn similar to your usual everyday undies. Wear them for a maximum of 12 hours or when you feel you need to change them.
Washing
Washing period panties is a lot easier than you'd imagine. Often people worry about staining, but I've actually never had a problem with that. If you can, try to wash them within 24 hours of being worn.
Below I go through how to hand and machine wash the panties. Conditioner should NOT be used on period panties as this reduces the absorbency.
Handwash – Rinse the period panty through thoroughly with cold water (this helps to prevent stains), then fill the basin up to cover the period panty with luke warm water and soak for 10-30 mins. Drain the water and wash the panty in luke warm water with handwashing detergent and rinse until water runs clear. Wring the water out then hang to dry.
Machine wash – If your period panties have held a lot of blood you may want to rinse these before you put them in the wash, but otherwise they can be washed at 30c/40c with your usual washing detergent. You may want to put these in a separate wash to your usual clothes but personally I find this is not usually necessary. Do not use conditioner. Do not tumble dry them as this can deteriorate the elastane. Just hang to dry.
Can they replace panty liners?
Yes absolutely! The light flow variation of the Moontide Period pants are perfect to be used as light flow days or to replace panty liners. If you are very light or find you need more breathability, on hot days or when doing sports, these can be made without the PUL layer.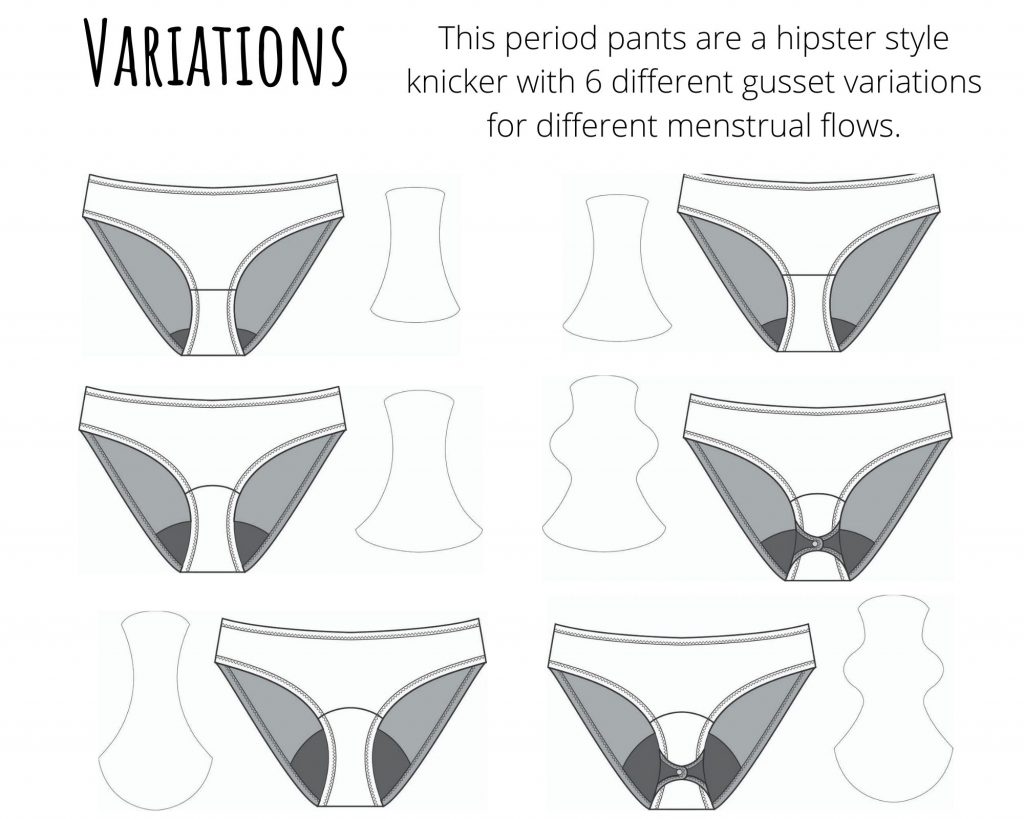 Can they used be other purposes such as incontinence?
Whilst the pattern and kit has only been tried and tested for menstrual bleeding, there is no reason why they wouldn't work for other uses such as incontinence as well as postpartum bleeding and discharge. I hope to do further testing on other uses in the future.
Do they feel wet?
Period pants are a replacement for sanitary pads so they feel similar to wearing those. (Personally I think they are a lot comfier!) However, the material used for the gusset liner/moisture wicking layer will effect this. Cotton is often used as it's soft, natural and breathable, however it retains moisture so can actually give you more of a wet feeling than you'd like! Pro cool fabric is a fabric made from polyester that is designed specifically to wick away moisture, this kind of fabric, or similar, is often used in period panties, however this can effect people with sensitive skin and it doesn't feel as soft as cotton.
A great alternative is bamboo jersey. This is the fabric that is supplied in the Sew Projects period panty kits and for the ready to wear knickers. Bamboo is not only super soft, but it is naturally moisture wicking and has natural antibacterial properties!
I've heard some people use Merino wool jersey for the gusset as it is also moisture wicking and has natural antibacterial properties. I will be testing this out soon myself!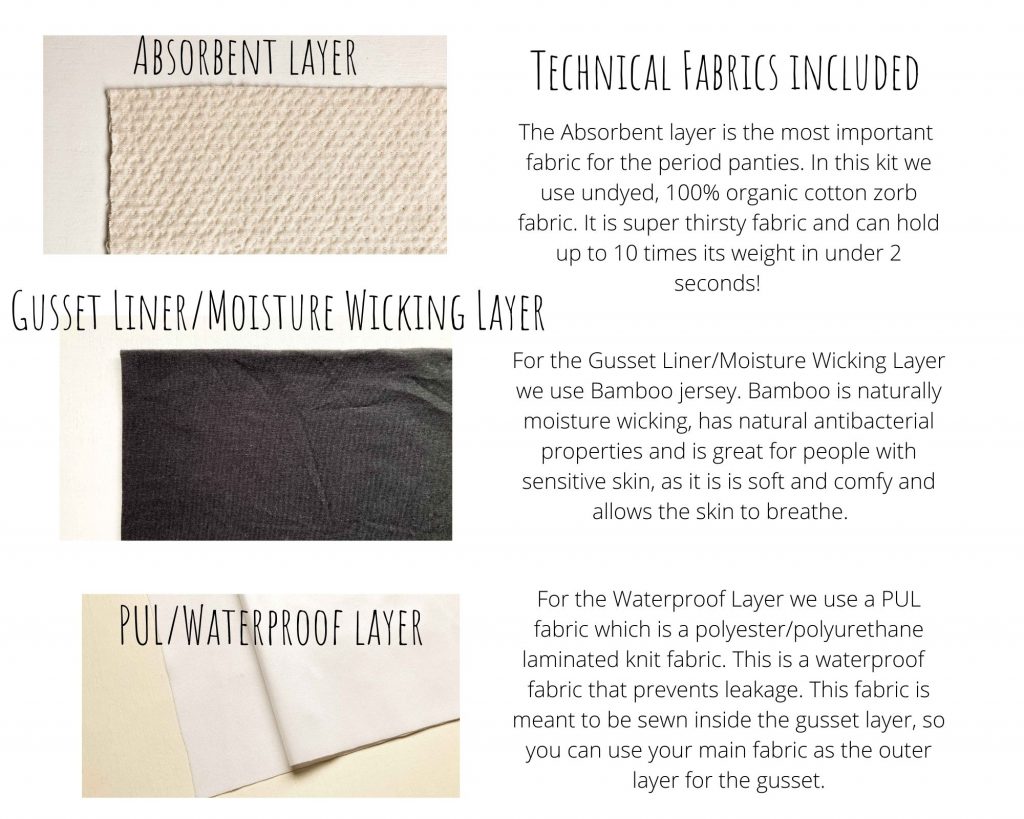 Are they designed to be only worn at home?
Period pants are designed to replace reusable or disposable pads. If you are wearing the right flow type for you then you should be able to wear just like you would wear pads. Although it may not be as convenient to change them, you can change throughout the day if necessary. If you are worried about leakage make sure you are wearing the right type for your flow. If you have a heavy or fast flow I recommend the variations with wings for extra leakage protection. I carry spare period panties in my bag with me just in case! If you need to change them when out, you could just put the used pair in a small bag made specifically for used period pants.
Are they only suitable for light flows?
Absolutely not, I designed the Moontide pattern so it would could be used for all different flow types. My personal favourite are the Very Heavy with wings, which I wear at night or on my very heavy flow days and I've never leaked. 😀
Is the absorbent layer organic?
Yes!! All the kits and ready to wear knickers are made from 100% organic cotton and Zorb® 3D fibres absorbent fabric. The PUL layer which is the waterproof layer is also CPSIA certified, which means it meets stringent tests for phthalates and flammability and is manufactured without harmful chemicals or finishes.
Can the kits be used for period swimwear?
This isn't something I've tested or tried yet, however this is something I'm really interested to try so I will update you in the future on this topic.
I absolutely love wearing period pants and I use these instead of pads. My favorite swap has been wearing the winged variation at night as I know I'm fully protected and they feel very comfy to sleep in, and the light variation for light days, which takes all the anxiety away! I've also heard a lot of other people who love them too but of course we are all different and prefer different things. I would totally recommend them (but I am a convert :P). If you are unsure, I'd advise to purchase one pair or kit and see how you get on.
Sew your own period pants!
Sewing your own period pants is a lot easier than you may think. What I love about sewing my own is you know what fabrics are being used and you can make them exactly to fit you and your period flow! I created the Moontide period pants sewing pattern which is my best seller pattern so you can make your own period pants. Plus I also curated Sew Projects period panty kits which are made from the highest quality fabrics with organic cotton, so you can make your own period pants!
Once you've got the pattern order yourself a period panty sewing kit which includes all the fabrics and elastics you need to make yourself several pairs of Moontide period pants! All kits are made from high quality fabrics and curated by myself for the comfiest, and best working period undies!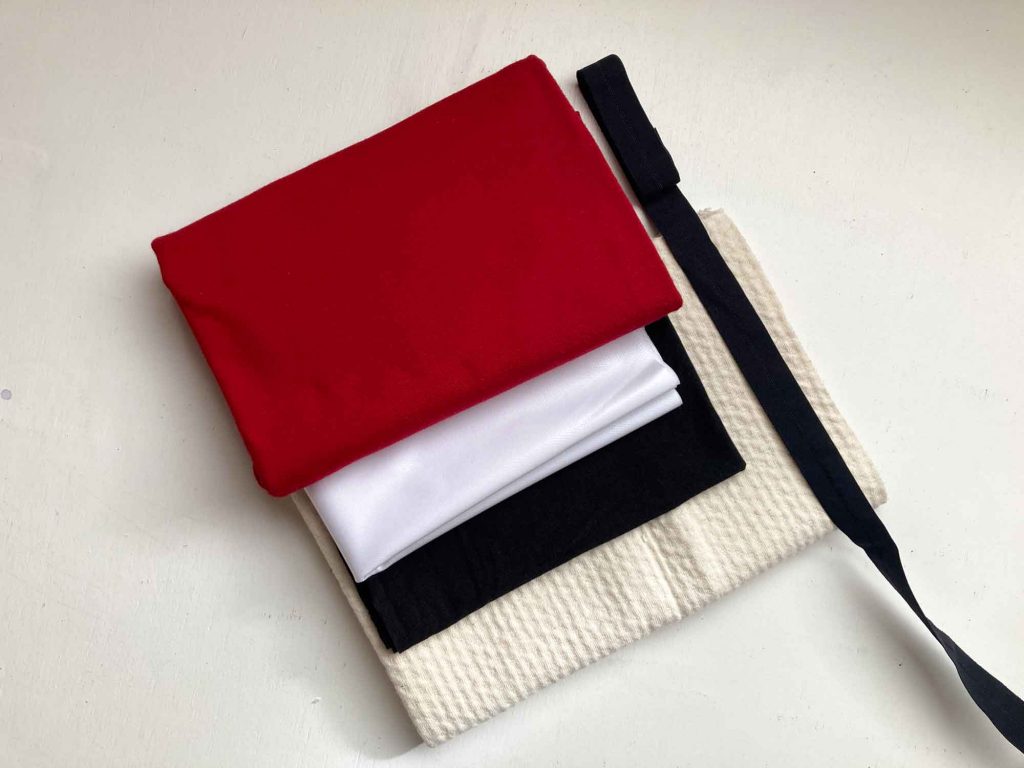 I hope that's answered lots of questions, do comment if you have anymore and I'll be happy to answer! Yelena x